NEW BOOK: From the creator of Functional Lawyer, Scott Rattigan, J.D.
Order Now + Get A Free Companion Course

!
Purchase a copy.
Click the link below and start making strides to create the life and practice you've always wanted.
Get Your Copy
Get access to the free Companion Course instantly.
After purchasing the book, fill out the details below and enter your Amazon order number.
Share this limited time opportunity

with anyone you know who might be interested in a proven plan to expand and grow their practice legally and effectively!
What could your life be?
If you KNEW how to expand your practice legally?
This book will:
Awaken health professionals to the opportunities to legally practice in more than 40 states or within one state.
Explain how each practitioner can share their unique gifts, experience, and wisdom to impact the lives of thousands or even millions of people across the globe who need their guidance.
Provide a step-by-step instruction for building a telemedicine practice strategy that fits each practitioner's needs so they can grow with confidence, be free from anxiety, and focus on changing the lives of their patients.
It's time for you to establish solid business and legal plans to protect yourself and grow your business 'the right way' so that you can practice in alignment with your true calling: to powerfully impact people's lives for the better.
Order Now
IS PRACTICING ANYWHERE, ANYTIME YOUR FAVORITE DAYDREAM?
This book will show you how to turn it into a
reality.
The Practice of Telemedicine will take you from "overwhelmed and confused" to taking confident steps in the direction of your dream practice --- even if you have no idea where (or how) to start this one move could dramatically improve the quality of your life.
I Want the Book!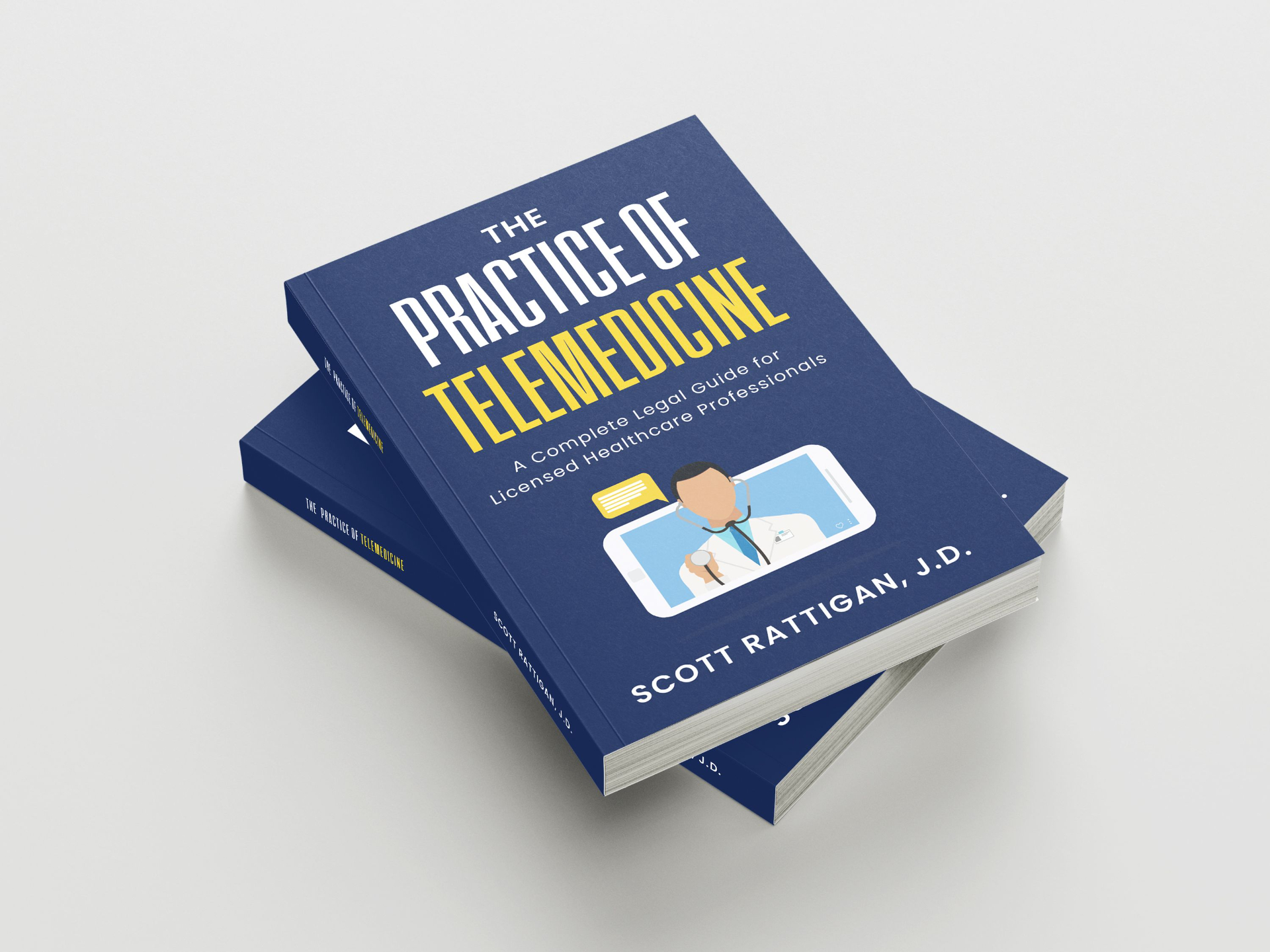 How often do you seek out the answers to these questions?
(And have a nagging sense you didn't get the best answer?)
Can I do that?

Can I see patients across state lines?

Can I just I call myself a "Health Coach" or "Consultant" and be free from the regulations?

Can I practice nationally?

Can I establish care virtually?

Can I write prescriptions virtually?

Can I order labs?
Thousands of practitioners have the same questions.
In addition, there are many myths and rumors about the state of the telemedicine legal landscape after the Covid-19 pandemic ends.
Worse, some influential business coaches are teaching misinformation that could get providers into hot water legally.
"The Practice of Telemedicine"

cuts through the misinformation to educate providers -- in plain, conversational English (not legalese) -- on the legal pitfalls to avoid and compliance plans to put in place so that they can build, grow, and scale their telemedicine practices . . . safely.
HEAR FROM THOSE WHO HAVE READ IT!
"I purchased your Telemedicine book and it's outstanding!
I've been highlighting, marking pages, and reading every single word.

Well done! So insightful and you write so well! Really good."
Terry Fletcher
Healthcare Coding and Reimbursement Consultant and Auditor
"This is the quintessential telemedicine guide every licensed healthcare professional NEEDS. Step by step, Scott shares what you need to know to practice telemedicine legally, and how to utilize educational materials to legally expand your reach across state lines."
Uli Iserloh, PhD
Founder, Big Boost Marketing
"I highly recommend this book!
This book was really a blessing to take all of his teachings and put them into one place, I actually read it cover to cover.
And I feel so supported now.
It is great to know how I can practice safely within the law, and have everyone be protected.
Thanks, Scott!"
Beth Claxton, MD
Flagstaff Functional Medicine
Reduce Overwhelm and Confusion.
Learn how to Safely and Legally expand your reach and build your practice.
If you're reading this letter, most likely you are building your integrative practice...one that can hopefully

replace your "day job" income

...and let you practice medicine the way you've always wanted and create a lifestyle you've always dreamed of. Right?
Well there's a big obstacle in your way...one that you may or may not have noticed...and that is in the form of

inaccurate legal advice

that assures you that you can practice medicine in states that you are not licensed in so long as you

call yourself a health coach

and adjust your wording, format and contracts accordingly and this is not true.
How do I know? Well, like you, I was intrigued by what I was hearing from not only the 1000s of physicians I've consulted with over the years, but other consulting businesses. And I was determined to find the facts that have your best interest and license in mind.

I am not interested in telling you what you want to hear, but what you need to hear.
After years and hundreds of hours of research and consulting with medical legal experts, what I found was not only exciting, but

encouraging

.
You can practice telemedicine safely and effectively within your own state

AND across state lines

, so long as you follow the processes I've outlined in this book.
I know you're excited to practice the medicine you've always dreamed of, and live a life that is balanced and fulfilling. But you

owe it to yourself to do it the right way

. Let me show you how.
Yes, I'm Ready To Expand My Practice Legally!